Discover Real Value at Harvest Time with the
PEARMAN PEANUT DIGGER-SHAKER-INVERTER
The "Gentle Action" Machine
1, 2, 3, 4, 6, and 8-Row Models Available - Row spacings ranging from 26 to 40 inches


Pearman Corporation at 1996 Sunbelt Expo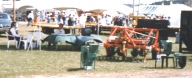 The Pearman Corporation Exhibit featured a 2-row peanut digger shaker inverter, moisture sample shellers, and liquid starter fertilizer row units.

Field Demonstrations at EXPO 96


Pearman Corporation was proud to demonstrate the capabilites of its Model 602 2-row digger-shaker-inverter at the 1996 Sunbelt Agricultural Exposition. The peanuts inverted during the field demonstrations were twin row runner peanuts. The 2-row unit was operated in wet field conditions on a 7610 Ford tractor with front wheel assist.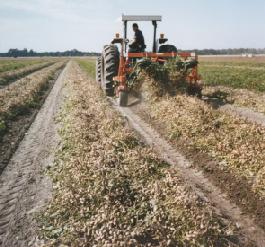 Pearman Corporation manufactures 1, 2, 3, 4, 6, and 8-Row Models in row spacings ranging from 26 to 40 inches. Please visit the Pearman Digger Shaker Inverter page to learn more about the various models and to read a description of how these inverters work. (Link also available from main page.) Displayed below are more photographs of the Pearman Peanut Digger-Shaker-Inverter in action at the Sunbelt Expo.